Villas, Apartments and Accommodation in Spain
Direct from owners
For golfing enthusiasts. Rent a golf property in Costa Tropical
For golfing enthusiasts. Rent a golf property in Costa Tropical
Golf property and holiday homes near golf in Spain
Book short golf breaks and golfing holidays in Spain. Search golf locations, golf resorts and golfing destinations throughout Spain. From our list of many golfing venues, you can select your perfect golfing experience or golf weekend at real value prices.
So whatever type of a golfing break you require search through Spain Holiday Rentals site. We offer golf holidays throughout Spain along with a great range of airport parking, cheap flights, golf travel insurance and car rental deals.
So whatever your golfing experience you have Spain Holiday Rentals can cater for all types of golf escapes, golf retreats and golf getaways.
Search properties from Costa Tropical,Spain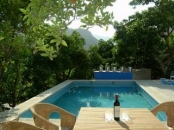 Costa Tropical >> Granada >> Guajar Faraguit
This large village house, in Guajar Faraguit, with its beamed ceilings and spacious airy rooms, is detached and set in a small orchard. It has spectacular, uninterrupted views from the house and garden/pool area. Eschewing the usual plain Spanish interior design, the rooms are bright and cheerful...
More Information on Costa Tropical
Planning a golf trip to Costa Tropical? Above you'll find a series of golf properties for rent in Spain, the perfect setting for your next golfing trip to Costa Tropical