Villas, Apartments and Accommodation in Spain
Direct from owners
El Campello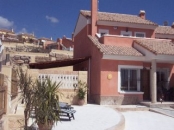 This luxury, privately owned villa with delightful spacious grounds & a superb shared pool will appeal to the most discerning of guests. Tastefully decorated lounge with quality furnishings including 2 sofas & a colour TV with Sky Satellite (BBC, ITV, Channels 4 & 5 & sports channels) the gardens ar...

This luxury, detached privately owned villa with delightful spacious grounds and a superb private pool will appeal to the most discerning of guests. Stunning lounge with quality furnishings throughout including leather sofas and a 42"plasma screen TV with Sky Satellite channels (BBC, ITV, Channels 4...
Holiday rentals in El Campello
Find your ideal holiday apartment or villa rental in El Campello, Spain
Located along the stunning Costa Blanca coastline, El Campello holiday rentals are just 15 km from the town of Alicante. Blessed with 23km of lovely sandy beaches and small coves it is a water lovers paradise, the constant sea breeze make it a popular sailing and wind surfing location and the warm, clear waters of the Mediterranean are always inviting for swimming and snorkelling. The majority of holiday rentals in El Campello are luxury holiday apartments, townhouses and villas with pools set in modern developments close to the fantastic coast.
Things to do in El Campello, Spain
Being a coastal resort you will almost certainly spend some of your time on holiday in El Campello on the superb Muchavista beach, the main beach in town, stretching for 7km with lovely golden sand and awarded European Blue Flag status. Here you can simply relax in the sun, read a book then cool off in the sea. For more active entertainment sailing, boogie boarding, scuba diving and rowing are all available from the sailing club located at the marina.
El Campello holiday apartments also offer a wealth of history, beautiful scenery and culture, the old town itself offers delightful painted houses, art exhibitions and the 16th century watch tower, Torre De La Illeta, built to defend against pirates. Close to the tower is the interesting Illeta dels Banyets, an archaeological site showing evidence of Iberian, Roman and Islamic occupation.
The stunning countryside on offer during a holiday in El Campello provides excellent opportunities for walking, hiking and horse riding on the mountain trails, as well as inspiration for artists, writers and photographers.
Weather in El Campello, Spain
The climate in El Campello is perfect for a self-catering holiday throughout the year, with more than 300 days of sunshine and long hot summers. Winters are fairly mild with average temperatures around 12°c, warm enough to escape the freezing temperatures in the UK. Spring and autumn are a pleasant 20°c on average, ideal if you plan a walking or golf holiday in El Campello. The temperatures begin to rise as early as May and quickly reach the summer average of 25°c, if you take a villa holiday in El Campello during July and August, a holiday villas pool will make a great way of cooling off.
Flights to El Campello, Spain
Being just a short 25 minute transfer from Alicante Airport, it is possible to be sat around your villa rentals pool and enjoying your holiday in El Campello around an hour after landing. Alicante Airport is easily accessed from the UK and it is possible to find cheap flights to Spain available from low cost airlines. If you plan exploring the surrounding areas on your El Campello holiday, then car hire is available from a number of providers at Alicante Airport.