Villas, Apartments and Accommodation in Spain
Direct from owners
Villas to rent in Nerja
List of properties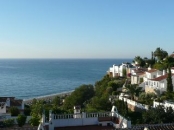 Our single storey, southwest facing townhouse in Nerja is in the select area of Pueblo Chimenea on a small headland at the east end of the popular Burriana Beach, a 5 minute walk away. The historic centre of Nerja is a further 20 minute stroll along the beach and sea front streets or a 5 minutes ...
Villas to rent in Nerja
Find your ideal holiday apartment or villa rental in Nerja, Spain
Holiday villas in Nerja are located on the eastern edge of the Costa del Sol, nestled between the sea and the Sierra Almijara Mountains and just 50km from Malaga. Nerja once a sleepy fishing village is now a major tourist destination. Although development has seen expansion, Nerja has avoided the high rise concrete towers that can found in many places along the Costa del Sol, the old town itself has barely changed with whitewashed buildings and its narrow winding streets. Most holiday apartment rentals in Nerja are in low rise buildings with communal pools and gardens whilst there is also a selection of luxury villas with pools in Nerja available to rent.
Things to do in Nerja, Spain
Nerja is known as the Balcon de Europa, referring to its magnificent promenade running along the cliffs with panoramic views of the surrounding coastline. Lined with shops, bars and restaurants you will be able to taste one of Spain's best known foods, Tapas. A variety of small dishes Tapas is also a great alternative to having a main meal, you can choose from a large choice of delicious dishes and have as much as you please, why not try the local specials Pescaito Frito (fried fish) and De La Doncella (red mullet) whilst enjoying the stunning views from the cliff top setting.
The Nerja caves are just 3km out of town and are one of Spain's most visited tourist attractions. With stalagmites and stalactite in a network of caves some so big a concert hall has been built inside, pre-historic remains and 20,000 year old wall paintings it is well worth a visit whilst on your self- catering holiday in Nerja.
Nerja has around 9km of attractive beaches, from small sheltered coves to large sandy bays, all shelving into the warm clear water of the Mediterranean. The whole family will find something to entertain them on a villa holiday in Nerja, whether sunbathing with a book by the pool or taking part in the wide range of activities on offer such as swimming, snorkelling, jet-ski or boat hire or even Parasailing.
Nerja benefits from a typical Mediterranean climate, long hot summers with daily temperatures reaching an average 30°c and short mild winters, making it a year round destination for a holiday rental in Spain.
Nerja is only 50km from Malaga Airport which receives many flights from all over the UK, making it easy to find a flight to Nerja to suit your needs. If you take advantage of car hire in Nerja, you can be at your Nerja holiday rental in around an hour.
Here you can chose your ideal villa rental in Nerja and select from luxury villas in Nerja as well as beach villas in Nerja - all direct from the owners for best value!