Villas, Apartments and Accommodation in Spain
Direct from owners
Holiday rentals in Benitachell
Holiday rentals in Benitachell
Find your ideal holiday apartment or villa rental in Benitachell, Spain
Benitachell is situated slightly inland from a rugged stretch of the Costa Blanca coastline, a peaceful village that has enticed many visitors from the UK seeking a relaxing holiday in attractive surroundings. Being slightly elevated Benitachell offers many stunning views of the surrounding countryside all the way down to the coast. Along its steep narrow streets you will find traditional Mediterranean houses painted in a variety of colours adding to the charm of this picturesque village and the impressive church, which is where on a Wednesday the streets are closed off for a market selling some delicious produce for your self-catering holiday, dominates the skyline at night when it is lit up.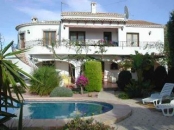 This magnificient villa is set in a new urbanisation, La Joya, situated between 3-4km from Moraira town. 2 km from Javea Golf Club and 2 km from Moraira Tennis Club. Only 1 km from the supermarket. Walking distance to Benitachell - it takes 15 minutes.The accommodation includes two double bedroom...
More about holidays in Benitachell
Further down the hillside are some modern urbanisations that have been developed to meet the demand for luxury holiday homes in the area, with villas seemingly perched on the edge of the high cliffs they have unprecedented views of the Mediterranean below. There are a wide range of choices for a holiday rental here, from luxury apartment rentals to villas with pools, all modern and luxurious and have access to a nice beach below which is suitable for numerous water sports and a great little beach bar.
Things to do in Benitachell, Spain
From your holiday villa in Benitachell there are some great places to visit, Javea and Calpe are two fantastic beach towns with lots on offer for the whole family from sightseeing, climbing Calpe's impressive Penon de Ifach and getting an unrivalled view of the coast, to water sports on the fantastic beaches they have to offer. There are also some excellent golf courses in Costa Blanca all in easy reach of a holiday rental in Benitachell.
The countryside and mountains of the area are popular with walkers and hikers, you can follow coastal walks with breath taking scenery so always take a camera. There is also riding stables available offering hacks and lessons for all ages and abilities.
Weather in Benitachell, Spain
The Costa Blanca has a fantastic climate with over 300 days of sunshine a year and a very mild climate, this has made it a popular choice for people from the UK to have a holiday home in Benitachell, many have even moved here permanently. Temperatures can average 28°c in the summer months but can peak much higher, so a holiday villa with a pool to cool down in is a good choice for families.
Flights to Benitachell, Spain
Situated between Valencia Airport and Alicante Airport you have a vast array of choice of flights leaving the UK, so you can always find a cheap flight to Benitachell to suit your needs. There are a number of companies located at both airports that offer Benitachell car hire, should you decide to travel around the area on your self-catering holiday.