Villas, Apartments and Accommodation in Spain
Direct from owners
Holiday rentals in Alora
Villas and apartments for rent in Alora
Just 40 km from Malaga takes you to the peaceful Andalusian village of Alora. This attractive little town is comprised of the typical white washed houses, narrow cobbled streets winding around the natural contours of the hills, more suited to donkeys and carts than cars. Set in a fertile area Alora is known for its agriculture and is surrounded by olive groves, almond groves, citrus orchards, vines and natural pine forests. A villa rental in Alora will give you a relaxing holiday, an insight into Spanish culture, and the history of Spain in beautiful surroundings.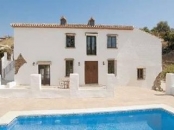 Outstanding conversion of a traditional Andalucian Cortijo with views to Alora's ancient Moorish castle. Only 2 mins walk to local shops, bars and restaurants. 5-10 mins walk to Alora train station with direct line to Malaga and on to the Costa Del Sol beaches plus links north to Seville , Madrid...
Holiday rentals in Alora
Things to do in Alora, Spain
A villa rental in Alora is set in a unique and varied environment from rocky cliffs, forests and lakes to fertile agricultural land, a haven for nature lovers. Alora has become a popular destination for artists seeking inspiration and stunning scenery. Bird watchers also find the area provides a variety of habitats for different species of birds.
One of the most impressive landmarks in Alora is its castle. High on a hill it has stood since before the Romans invaded, for centuries it stood before it was demolished, then rebuilt again by the Moors.
There are a variety of sports available on a holiday in Alora, mountain biking, walking and hiking all make use of the many miles of marked trails available, rock climbing is also popular in the El Chorro Gorge and Ardale Lake area. There are a number of opportunities for horse lovers on a holiday in Alora, you can have a lesson, whatever your ability, at a riding school or go on a trek through the rugged terrain and explore the vast area.
If you enjoy cooking for yourself on a self-catering holiday, in Alora you will have a wonderful choice of fresh local produce from its fertile land and sub-tropical climate. Available from the town market on a Monday, there is a wide range of fruit and vegetables grown in the area, as well as delicious meats and of course fresh fish brought straight from the port.
Alora holiday villas benefit from an enviable climate with long hot summers and mild winters making it a year round destination for a holiday in Spain. If you plan a more active holiday then the spring and autumn months have temperatures averaging 20°c, more agreeable for activities such as horse riding, rock climbing and walking. During the summer months temperatures can peak over 30°c so a holiday rental in Alora with a pool and air conditioning to cool off in is ideal.
Malaga Airport is approximately 40 minutes from a holiday rental in Alora. Cheap flights to Malaga Airport are easy to find as it receives many flights from all over the UK operated by lots of airlines. Due to its location car hire in Alora is recommended so you can explore the area easily, but if you prefer not to drive, holiday transfers to Alora from Malaga Airport can easily be arranged.