Villas, Apartments and Accommodation in Spain
Direct from owners
La Manga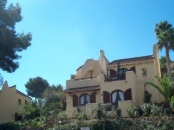 This villa is situated in the famous 5* La Manga Club. The luxury 3 bed, 2 bath, air-conditioned villa is built on 2 levels. The bedrooms are downstairs with French doors leading to a large terrace from the main bedroom. Very cool in summer. Fully re-furbished to a very high standard in 2006. Wit...

Our luxury two bedroom, two bathroom apartment (with flexible booking) has everything needed for a traditional Spanish holiday. This low rise apartment complex is situated right on the sea front and incorporates a massive 'infinity' pool so you can overlook the Mar Menor (warm sea) as you swim. You ...
Holiday rentals in La Manga
Find your ideal holiday apartment or villa rental in La Manga, Spain
Situated on the Costa Calida 40km from Murcia Airport is the luxury sport and spa resort of La Manga Club and the resort area of La Manga del Mar Menor also known as La Manga Strip. Both offer a wide choice of activities and entertainment to keep you amused during your self-catering holiday in La Manga.
La Manga strip is a 22km long resort area built on a narrow piece of land that almost completely separates the Mediterranean from the shallow waters of the inland lagoon known as Mar Menor. With one long continuous stretch of beach along its coast, you will have almost direct access from your holiday apartment in La Manga, this also means that the beaches never get too busy even in the summer months. Water sports are popular here with the choice of the lovely Mediterranean or calm shallow waters of the Mar Menor, which can be up to 5°c warmer than the sea. Sports such as snorkelling, scuba diving, sailing, windsurfing and kite surfing are all possible or maybe take a boat or a jet ski around the lagoon.
La Manga club the famous luxury golf and leisure resort, with three excellent championship golf courses, that have hosted many professional tournaments, extensive practice and coaching facilities it is easy to see why it has been voted Europe's top golf resort twice. There are also fantastic facilities for cricket, rugby, football and it has one of Europe's finest tennis academies. There is a range of holiday rentals in La Managa Club, apartments, townhouses and villas with pools all have access to the facilities provided including shops, bars, cafes and restaurants.
Weather in La Manga, Spain
Having more than 300 days of sunshine a year, average temperatures of 20°c that rarely drop below 10°c even in the winter, it is easy to see why the Costa Calida is a year round self-catering villa holiday destination. During the summer months the long hot days mean temperatures can reach over 30°c on a daily basis helping you make the most of your holiday rentals pool, or if you prefer, the beach. Golfing holiday in La Manga are popular in the spring and autumn as the days are cooler making them more agreeable for 18 holes.
Flights to La Manga, Spain
Just 30 minutes from Murcia San Javier Airport and about an hour and a half from Alicante Airport you have a wealth of choice to find a flight to La Manga suit your requirements. If you decide to take a hire car in La Manga you can pick one up at either airport, or you can use one of the many holiday transfer companies in the airports to get to your holiday rental in La Manga.