Villas, Apartments and Accommodation in Spain
Direct from owners
Mijas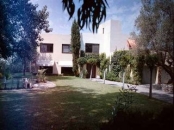 Villa Los Olivos, sleeps up to 6, is located in a residential area. The enclosed grounds, set in 2100 m2 plot, guarantees maximum privacy. Comfortably furnished throughout, the spacious accommodation is on two levels and has open / covered terraces and garage for two cars.. A few steps down from the...
Holiday rentals in Mijas
Find you ideal holiday apartment or villa rental in Mijas, Spain
Mijas is an attractive Adalusian village high up in the hills with stunning panoramic views of its surroundings. Located approximately 8km inland from the Costa del Sol coast, Mijas is an idyllic Spanish village containing some interesting historical monuments and buildings that show its past influences. As you stroll through the cobbled streets of Mijas meandering between the whitewashed houses, interspersed with charming little shops selling local crafts and artwork, you will get the chance to see some spectacular views of the mountains and all the way down to the coast along its many walls and terraces. Keeping some of its old traditions alive you can even travel on a traditional donkey taxi, the only way of getting around in days gone by, while on a villa holiday in this charming little village.
In contrast Mijas Costa is a modern development stretching some 10km along this stunning coast, with beautiful sandy beaches that provide all the modern amenities we have come to expect of a coastal resort. Here you will find vast choice of holiday rental options from apartment rentals in purpose built complexes to luxury villas with pools by the sea.
Things to do in Mijas, Spain
If you are taking a family holiday in Mijas then you are sure to visit one of the many beaches available close to your rental property, wherever you choose you will find warm, clear waters to swim in, lovely golden sand and a host of activities on offer to keep you entertained. There are also many fine places to eat should you choose not to cook on your self-catering holiday, serving a wide choice of dishes from local specialities to international cuisine.
Golf holidays in Mijas are very popular; in fact the land between the village and the coast is often referred to as golf valley, containing some of the 9 golf courses on offer in the Mijas area. With its fantastic climate you can take a self- catering luxury golf holiday in Mijas all year round.
Mijas benefits from a typical Mediterranean climate with mild winters and hot summers making it possible to holiday in Mijas throughout the year. Summers are very warm, temperatures can peak over 30°c making a holiday rental with a pool a popular choice in the Costa del Sol.
Malaga Airport is just 30km away and is a large international airport that receives flights from all over the UK from various carriers so finding cheap flights to Mijas should be easy. Here there are also plenty of rental companies as car hire in Mijas means you can explore more of this attractive location.