Villas, Apartments and Accommodation in Spain
Direct from owners
Holiday rentals in Vejer de la Frontera
Holiday rentals in Vejer de la Frontera
Find your ideal holiday apartment or villa rental in Vejer de la Frontera, Spain
Located in the province of Cadiz, the hillside village of Vejer de la Frontera is said to be one of the most attractive whitewashed villages in the region. A typical Andalusian town with narrow cobbled streets winding around the hillside, shaded plazas and a selection of interesting shops and market stands selling local crafts and produce. Being unaffected by modern tourist developments holidays in Vejer de la Frontera provide an authentic Spanish experience, from the impressive turreted walls of the old quarter, the beautiful fountain in the Plaza de Espana where you can sit and watch the world go by, to the many many fantastic restaurants offering delicious Spanish cuisine. There are some fantastic holiday rentals in Vejer to choose from, traditional townhouses, apartments and rural holiday homes with pools and gardens.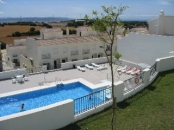 Our house has 3 double bedrooms, lots of outside space and is on a small development in a quiet location that has a lovely communal pool complex. The house is an easy walk to all the local bars, restaurants, shops and the historic area of Vejer. It is also only a 10 minute drive to beautiful unsp...

Our apartment has one double and one twin bedroom, a living room, a well equipped kitchen and a bathroom. There is a roof terrace with a stunning view of the village to watch the sun setting and to hang your washing to dry It is situated in the old part of the town and access from the street is v...
Information about holidays in Vejer de la Frontera
Things to do in Vejer de la Frontera, Spain
From an apartment in Vejer de la Frontera you can enjoy a relaxing holiday in beautiful surroundings just a few kilometres from a choice of fantastic beaches. El Palmer boasts 12km of golden sand and is renowned for its excellent waves making it popular for surfing holidays.
There are a number of natural parks close to a holiday rental in Vejer de la Frontera providing the opportunity to enjoy walking through pine forests, kayaking inland waterways, bird watching amongst the sand dunes, climbing, paragliding and horse riding.
Weather in Vejer de la Frontera, Spain
A self-catering holiday in Vejer de la Frontera can be taken throughout the year thanks to the great climate of the Costa de la Luz, with low rainfall and mild winters. Spring and autumn are an excellent time to visit for a walking or golf holiday in the Costa de la Luz, with longer days and temperatures a pleasurable 18-20°c. If you take your villa holiday in Vejer de la Frontera during the summer you will be able to make the most of your holiday rentals pool, temperatures can soar as high as 28°c making the pool a perfect place to cool off.
Flights to Vejer de la Frontera, Spain
A Vejer holiday rental is 1 hour from Jerez Airport and Gibraltar Airport, 2 hours from Seville Airport and approximately 2½ hours from Malaga Airport, many airlines provide cheap flights to Spain from all over the UK. If you expect to travel around the surrounding area while taking a holiday in Vejer de la Frontera car hire can be pre-booked at the airport, along with holiday transfers if you prefer to be driven to your rental property in Vejer de la Frontera.